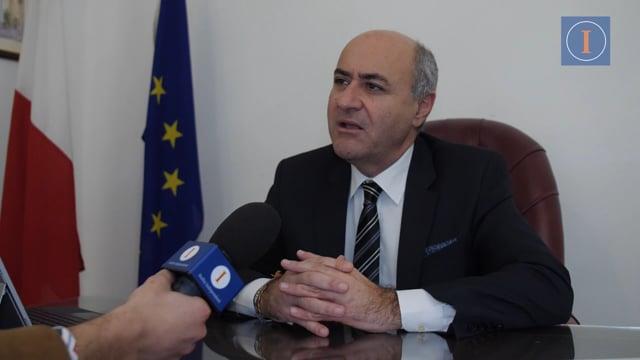 While the State is obliged to give everyone as much freedom as possible, it also has an obligation to protect citizens from humiliation, Minister for the National Heritage, the Arts and Local Government Jose Herrera told The Malta Independent.
On Thursday, images of a float linking Archbisop Charles Scicluna and a Church home to child abuse were made public. The float features the Archbishop, flanked by two babies with devil's horns and pointy teeth, in front of St Joseph children's home, with the writing 'Jude's hell.' Jude is Archbishop Scicluna's middle name. Festivals Malta, organisers of the Carnival activities, has said that this float is not going to be allowed to participate in the 2020 edition of Carnival.
The Malta Independent caught up with Minister Herrera, and asked him about the situation.
"Political satire and satire was reintroduced in Carnival around 6-7 years ago, while I was Parliamentary Secretary responsible for Culture at the time. I am definitely in favour of satire, and completely in favour of freedom of expression," he said.
"However we cannot have anarchy in a civilised society, and one's rights stop when they start intruding on another person's rights. You can joke about someone, criticise them, but you cannot allege facts about someone which are false, and you cannot humiliate someone by attributing falsities to that person."
In this particular case, Minister Herrera said, he felt that to depict the Archbishop on this float as a person protecting or encouraging paedophilia "was not only in bad taste – as I would not interfere if it was just a case of being in bad taste – but I think it also attributed facts to the person of the Archbishop which were totally unwarranted and false."
"I also felt that it was highly insensitive towards the children who are being catered for at Dar San Guzepp. There are a lot of serious hard-working people there and I do not think it is fair to portray Dar San Guzepp as some brothel for paedophiles to indulge in their personal gratification. I think it was a step in the wrong direction."
"I was in Cabinet when we removed the law where the Roman Catholic Church had special privileges, and I was in favour of that. I was also there when we removed the criminal aspect of libel, but having said this, one still needs to draw the line in certain areas as everybody has to right to protect their reputation and their integrity."
Asked if the Censorship Board can find it to be illegal, he said that when the government removed censorship and criminal libel it did not mean that that anyone can do whatever they want in a democracy. "I cannot put up posters in the street alleging that a certain person is a murderer and a paedophile when I know it is not true. Ok that person can sue for libel but that would drag for two years in court and even if that person wins, the fact that he was mentioned in disgrace would have an effect on him."
"The state has an obligation to give full artistic liberty to everyone, but also has a moral obligation to protect its citizens from being unfairly humiliated. I mean, how would you feel if you were called a murderer or a rapist on a float going around Malta appearing on TV and the newspapers when you are not a rapist? Would you like being called a rapist or a paedophile if you're not? If you would have been arraigned in court it would have been something else but to attribute something like that I think we have gone too far. Having said that I will take all criticism on myself, but if they had to attribute serious falsities in my regard I wouldn't like it and I don't think you would either. I believe that the State has an obligation to give as much liberty to everyone, but also has the moral obligation to protect citizens from being humiliated."
Back to: Home – BLOG – Malta Property – Malta Activities